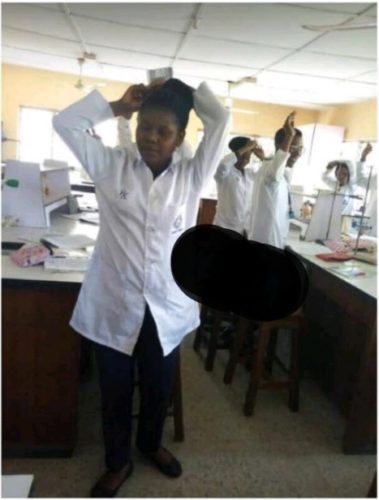 200 Level University Pharmacy Students Of OOU Purnished Like Primary School Students, Asked To Stand Up And Raise Their Hands For Noise Making
Is This Proper?
see some reactions below;
jahdiongsmakeoverAll this people that study pharmacy, medicine, Nursing. Ask them they are just in a higher secondary school, the kind discipline /purnishment they use to give them ehn but after they will be compensated with scholarship. This is not my ✋ writing oh Mbok.
@themaygee_ you need to see the one that happened right in my presence. One small boy was sitting flamboyantly beside me (space weh go reach two person) another guy came in n was like 'Bro adjust'. The boy refused oh, naso my guy carry am like pikin shift am comot😂😂😂
@fiskyfee 😁😁 sis were you in my thought? You just said my mind o 😍😙 Gone are the days where you'll see plenty 24-28 years in 100 level. These days, 16-18 years are even in 200 level. So I don't really expect much from them.
erm_eyeThis whole class done get carryover till they reveal who took this picture. And when the person is revealed, they might face victimisation throughout the rest of their stay in the school.
chuckzy234Some lectures are just stupid, why will u tell adults this if Dey dine obey u will fail them naija is a joke. And if the students change am for u somewhere else it would be something else. The powers gives to Naija lectures is alarming
tope4realityThat is good ,no regards and self respect of their professional ethnics and charity beginging at home,you know….keep it up my disciplinary lecturer… More of it from our class rooms or lecture rooms
Comments
comments