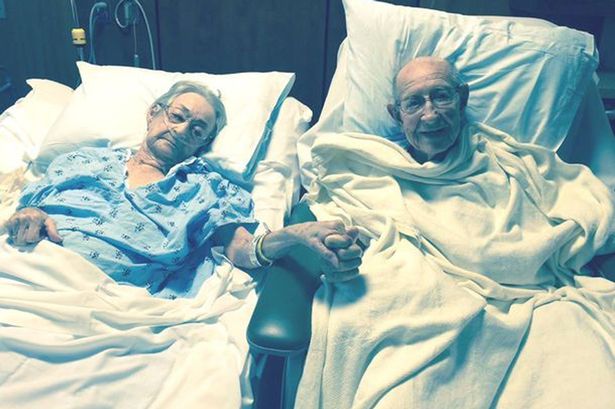 Georgian couple, Tom Clark, 96, and his wife, Arnisteen Clark, 92, who have been married for 68 years have only been separated once since they got married: When Tom, an Army veteran was posted to the Korean war.
The couple currently both on admission in the Piedmont Fayette Hospital were not allowed to stay in the same room. The hospital policy prohibits orthopaedic patients from sharing private rooms.
Tom could not bear the thought of being away from his wife so the hospital worked a visiting schedule that allows him to stay with his wife for hours,
"My wife is the finest woman in the world, I just can't be away from her," Tom told the hospital team.
The hospital has since posted the picture of the aged couple and wished them a speedy recovery.
"Fayetteville residents Tom and Arnisteen Clark have been married for 68 years. The only time they have been apart during their marriage is when Tom, an Army veteran, was stationed in Korea.
"This made their stay in different rooms in the hospital very difficult for them, so Tina Mann, Manager, Orthopedics Medical-Surgical 4, with help from the clinical staff, went above and beyond to make a special arrangement for Tom, 96, to visit his wife, in her room.
"Overcome with joy, he wept as he described the deep love he has for Arnisteen, 92. Here's hoping for a speedy recovery for the Clarks and many more happy years together," the hospital wrote on Facebook.
Comments
comments