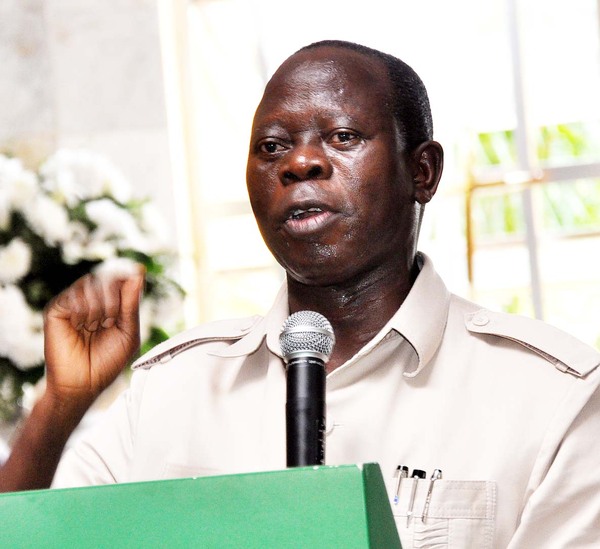 Outgoing Governor of Edo State, Adams Oshiomhole, has dismissed claims by the Peoples Democratic Party, PDP, governorship candidate in the Saturday's election, Pst Ize-Iyamu, that he had never been indicted for any crime before.
Recall that Iyamu recently said he was rusticated for being a member of the Pirate confraternity at the University of Benin, UNIBEN, and not because he poured acid on someone as it was widely insinuated.
But Oshiomhole while speaking in Benin, the state capital, alleged that, Iyamu was rusticated by a panel led by Prof. Itse Sagay for two years after he bathed a student with acid.
Oshiomhole said, "Ize-Iyamu said he has never been indicted in his life. And that he made his first millions when he was 31. Now I challenge him, as a student in UNIBEN, he was rusticated for two years because he poured somebody acid and today the person is paralysed.
"It was one of the President's Advisers today, Prof.Itsey Sagay that chaired the committee that rusticated Ize-Iyamu.
On the issue of Bendel Brewery, the outgoing governor said, "We have not been able to reopen Bendel Brewery because of the huge debt the PDP left in that place. I heard Ize-Iyamu saying that they were collecting N25million monthly from Bendel Brewery but now as the custodian of the treasure of Edo state, I can tell you those monies went into private pockets. And by the time they left, Bendel Breweries was owing N2billion, which they borrowed and the company was closed."
According to other sources…
Ize Iyamu pulled the front side of the student's pajamas and poured acid into his private part. He and his Pirate friends restrained the victim from going to wash off the acid with tap water. They held him until he had maximum damage. It happened at Hall 4 in February 1984 and their victim is Dominic Ezani, also known as Domingo, and Ize Iyamu and his friends accused him of being a Maphite – another cult. Prof Abhulimen Richard Anao chaired the panel of investigation during Prof Adamu Baikie's time as VC. Ize Iyamu was expelled initially but following the intervention of the Oba's Palace, the punishment was commutted to two years rustication.
Comments
comments