9. Philip Emeagwali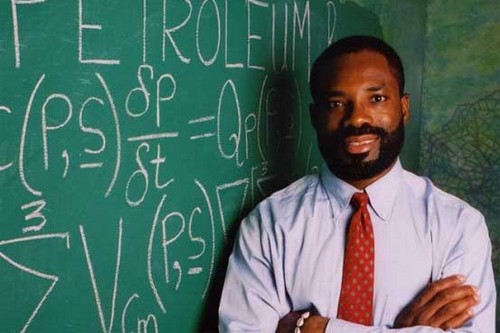 Philip Emeagwali is alleged to have an IQ of 190.
Philip Emeagwali is a Nigerian-born engineer, mathematician, computer scientist and geologist who was one of two winners of the 1989 Gordon Bell Prize, a prize from the IEEE, for his use of a Connection Machine supercomputer to help detect petroleum fields.
Philip Emeagwali is credited for inventing a formula that allows supercomputers powered by thousands of processors to perform billions of calculations per second — a discovery that made international headlines and inspired the reinvention of supercomputers.
The supercomputer comprises of thousands of networked computers and the Internet also comprises of millions of networked computers. The supercomputer spawned the Internet.
Emeagwali's 1970s hypothesis on 64,000 networked computers around the Earth led to his programming of 64,000 processors inside a big box to perform 3.1 billion calculations per second, a world record in 1989. For the latter achievement, he won the 1989 Gordon Bell Prize, which is the "Nobel prize of supercomputing."
The Supercomputer Spawned the Internet
The supercomputer created the need to invent the Internet to connect supercomputer physicists. In fact, the supercomputer and the Internet are powered by similar technologies. The supercomputer is powered by thousands of processors interconnected as a hypercube, while the Internet is powered by millions of computers interconnected as a hyperball. The supercomputer is a hypercube because a hypercube topology is easier to program while the Internet evolved to a hyperball because the Earth is spherical (see illustrations below).
The network that is the heart of the Internet is shaped like an irregular hyperball. Emeagwali invented the regular hyperball network and in 1988 using a hypercube supercomputer powered by 65,536 processors to establish the world record of 3.1 billion calculations per second.
Emeagwali was described by CNN as "a father of the Internet" and profiled in the book "History of the Internet."
Comments
comments