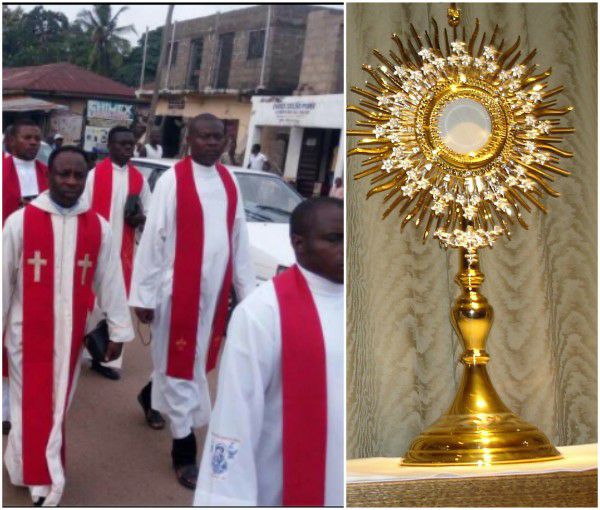 Catholic Priests from Immaculate Conception Catholic Cathedral, Lokoja, Kogi State, have observed a solemn procession after the church's blessed sacrament was stolen.
The solemn procession came with prayers of mercy and forgiveness from God, over the sacrilegious incident which reportedly happened on Friday, the 4th of August 2017, between the hours of 12noon and 2pm.
It will be recalled that few days back a nigerian man named Yahaya Idakwo took to facebook to cry out after the sacrilage was committed
SACRILEGIOUS!!!
This is what was stolen from my Parish, IMMACULATE CONCEPTION CATHOLIC CATHEDRAL CHURCH, LOKOJA on Friday last week 4th August 2017 between the hours of 12noon and 2pm by an unknown person(s) as I believed strongly that he or she must have committed a very serious Sacrilege. That is to say the Blessed Sacrament must have been Desecrated and needs God's intervention to save the person concerned. We pray God to forgive the person as he humbly returns to the church or better still call this line: 08035974356 as your identity will not be disclosed. Thank you.
Another facebook user Abuka Achile Achisqo‎ cried out too
Glory to Jesus, my broda/sister i want to use this opportiunity plead u all tht in my church wht as never happen as happen on friday last week. Tht the whole catholic diocese of lokoja. Immaculate conception catholic cathedral SACRAMENT as been steal by unknow person frm the adoration chapel till nw as i am typeing we ar surfering for it to bear pls every body should help us pray the rosary pls for this ever intensio
Comments
comments