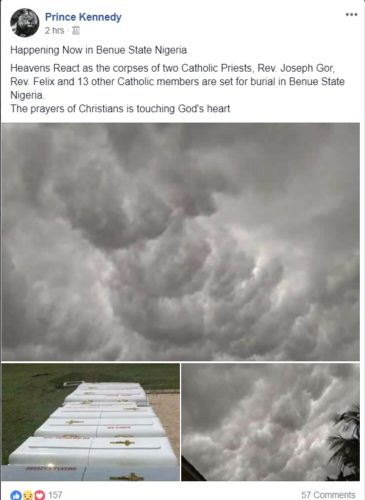 Was there really anything strange about the cloud?
Happening Now in Benue State Nigeria
Heavens React as the corpses of two Catholic Priests, Rev. Joseph Gor, Rev. Felix and 13 other Catholic members are set for burial in Benue State Nigeria.
The prayers of Christians is touching God's heart
what happened is strange but symbolic the perpertratorsa and collaborators of this dastardly act will face the wrath of God
Sola Salako Ajulo  wrote:
It is a blight on our humanity as a nation that daily Nigerians are butchered senselessly like this and we all carry on as if we are helpless.
What is it about political power that makes human lives fodder for personal ambition?
Whoever is benefitting from this carnage has just opened the door for perpetual carnage in his generations. I don't care 🤷🏼‍♀️ who they are or what political party or tribe they belong!
Senseless and sudden death will be the mark of their generations except they cease to shed innocent blood!
This is heart breaking I beg!💔
Comments
comments