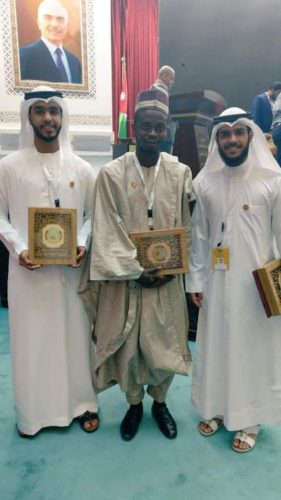 Congratulations to Sadeeq Alabi From Kwara State in Nigeria who Became 1st Position in just concluded International Qur'anic Recitation Competition held at Jordan. Congratulations Nigeria.. 🇳🇬 بارك الله فيه
Ramadan: Make Nigeria your number one prayer point, clerics urge muslims
As Ramadan commences globally, Muslim faithful are expected to eschew all forms of violence, sin, impurity, and get closer to their Creator. What should be the focus for Nigerian Muslims during this period, especially in the light of socio-political instability in the country? CHRIS IREKAMBA reports.
'Purpose Of Ramadan Fast Is For Muslims To Learn God's Consciousness And Do His Will'
(Professor Dawud O. S. Noibi, Executive Secretary/CEO Muslim Ummah of South West Nigeria (MUSWEN)
The purpose God requested that Muslims should fast, is stated in Qur'an chapter 2:183, where God made it obligatory for Muslims to fast, just as He made it obligatory on Prophet Mohammed's followers. The reason is for Muslims to learn to be God-conscious; learn to bring themselves under self-control and learn to appreciate the fact that we are here on earth to do God's will, as the angels do in Heaven. Ramadan is obligatory because it is given so that Muslims can learn to deepen the God-consciousness that is supposed to be in them and guide them in everything they do in life. Be it personal, communal, family, political economics and whatever.
They should become so God-conscious that they do everything in accordance with directives that come from God. There is no aspect of an individual or community's life that is not clearly stated in the Qur'an as guidance or manual, if you like. The Qur'an is like a manual that guides Muslims as to how they should live on earth, just as you and I would follow the manual that comes with a handset to ensure that we use it properly and in a manner that it will be useful to us. What makes it even clearer is in the next two verses, 184 and 185, where Allah draws attention to the fact that it was during the month of Ramadan He revealed the Qur'an through Prophet Mohammed, as the last dispensation of guidance that would come from Him to all mankind. So, there is a relationship between fasting and following the content of the Quran, which directs Muslims to live peacefully within their families, communities, country and humanity generally.
Muslims must never be aggressors, as God says He does not like aggressors. Muslims must not take the life of any human being, because Allah says in the Qur'an that whoever takes another's life has taken the life of all humanity. And whoever saves the life of just one human being is as though he has saved the life of all humanity. Even when you have to defend yourself against an aggressor, it is clearly stated that as soon as the aggressor stops in his/her aggression, you must also stop. You must not go beyond defending yourself. And if you are defending yourself in the enemy's territory, nobody must kill women, attack children or people of other faith, who are in their places of worship, worshipping God in their own way. Again, the Prophet says you must neither cut down their trees nor kill their animals. So, how can any one claim to be fighting for Islam while, breaking these laws that came from God and His messenger?
Comments
comments