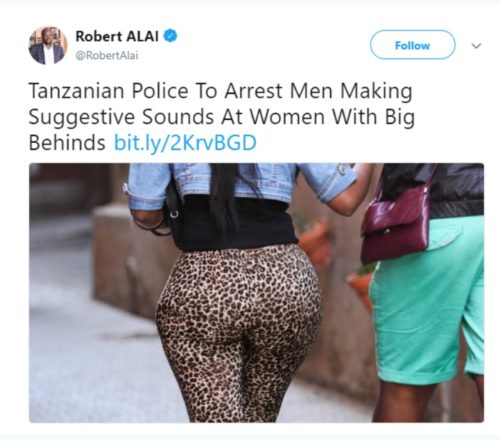 Tanzanian authorities are on the look out for those men who make sexually suggestive sounds at women.
According to an Exclusive report by the Most Popular Journalist in East Africa @RobertAlai Unguja Urban West Regional Police Commander, Ali Hassan Nassir says that the police will arrest men who make howling sounds at women with big derrieres.
The act itself, he says is shameful, adding that women should not be unconformable walking on the streets because of their appearance.
But according to a recent article published by the Citizen, cases of gender based violence have declined significantly.
Read: Standard Media Group Journalists Arrested In Stolen Uber
Mwanza Region Gender Desk head Betinisibo Shija, states that the decline is 'driven in part by efforts by the government to arrest perpetrators and provide support to victims of gender-based violence in the region.'
Comments
comments