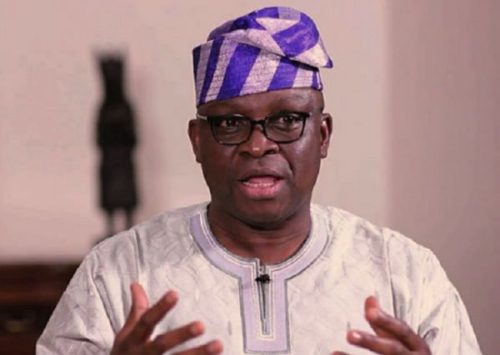 Just exactly as many people have always predicted it, that Fayose can't eat his cake and have it.
Just less than 24 hours after INEC declared APC's Fayemi as the winner of the Ekiti state Gubernatorial election that held on Saturday 14th of July, the EFCC Spokesperson took to their official verified twitter account to anticipate the investigation of Ex Gov Fayose.
In A Tweet that has now been deleted EFCC vowed to investigate Fayose on the Ekiti Poultry project worth over 1.2 Billion Naira.
Below is the tweet from EFCC and the 1.2 Billion Naira worth poultry Fayose built.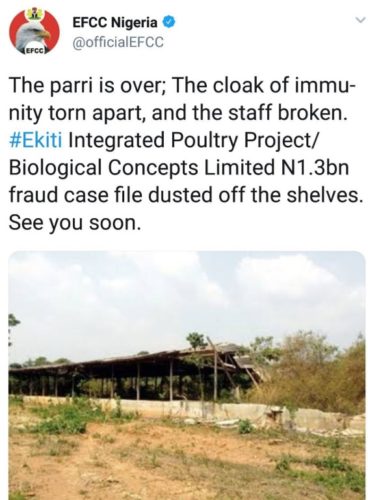 The Economic and Financial Crimes Commission (EFCC) has 'subtly' threatened to go after Ayodele Fayose, outgoing Governor of Ekiti State, over an alleged N1.3billion fraud in the Integrated Poultry Project.
The commission, through its official Twitter handle, said the case file had now been dusted off the shelf now that the soon-to-become ex-governor would no longer be cover by immunity.
"The parri is over; The cloak of immunity torn apart, and the staff broken. #Ekiti Integrated Poultry Project/Biological Concepts Limited N1.3bn fraud case file dusted off the shelves. See you soon," EFCC tweeted.
Back in 2005, the anti-graft agency had filed a case against Fayose, alleging that he was involved in the diversion of N1.3bn poultry project.
EFCC alleged that Fayose used a company, Biological Concepts Limited, owned by one Gbenga James believed to be Fayose's friend, to defraud Ekiti State of N1.3bn.
The alleged sum was purportedly used to build houses and cars.
The case was first filed at the Federal High Court in Lagos but it was later transferred to Ado-Ekiti sometime in 2015.
Justice Adamu Hobon presided over the matter in Ado-Ekiti court while it was live.
In one of the hearings, a witness of the EFCC, Abubakar Madaki, chronicled how Fayose diverted N860million from the alleged sum during his first term as Governor
Fayose supposedly diverted the money through his wife, Feyisetan Fayose, and his then Deputy Governor, Biodun Olujimi, who is now a senator in the current National Assembly.
According to one of the documents tendered by EFCC before justice Hobson, Olujimi also collected $50,000 from the Federal Ministry of Works.
Comments
comments