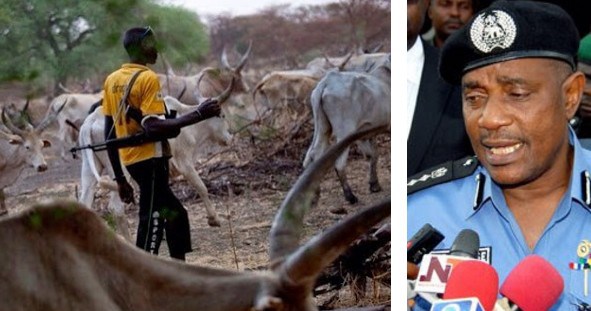 The Police have declared war on Fulani herdsmen carrying out attacks on farmers with unlicensed guns.The forcesaid it does not issue gun licences to herdsmen and would henceforth clamp down on any one of them who is found to be in possession of firearms without Police licence.
This move has become necessary with allegations that Fulani herdsmen use dangerous weapons such as AK47 and other guns whenever they are embroiled in violent clashes with farmers over grazing areas.
The Inspector General of Police, Solomon Arase, told PUNCH that they do not issue firearms to unqualified persons and encourage Nigerians to provide information on illegal arms across the country.
Arase, who spoke through the Force Public Relations Officer, Bisi Kolawole, noted that any herdsman found carrying guns would be arrested and prosecuted under the law of the land.
"We have always confiscated illegal and prohibited firearms and prosecute those arrested. Police cannot issue firearms licence to herdsmen; we are encouraging citizens to provide information on illegal arms across the country. Public safety is the absolute priority."
In similar vein, Police commissioners across the country are also talking tough vowing to arrest any Fulani herdsman that is caught with firearms and treat them like common criminals.
The Delta State Police Commissioner, Mr Alkali Baba Usman, said the command had arrested many Fulani herdsmen and interrogated them over allegations of farm destruction and killings.
"We are not afraid of arresting any Fulani herdsmen if found to have committed an offence, but we work within the ambit of the law," he said. "As regards the arms, they obtain permission to protect their cows. When they are arrested, we treat them as suspects until they are charged to court if necessary."
Commissioner of Police in Osun state, Mr. Kola Sodipo, "If you are caught with illegal weapon, you will be arrested. It is childish to say we are afraid of the herdsmen. What for? If you see any of them with weapons, let me know."
Comments
comments