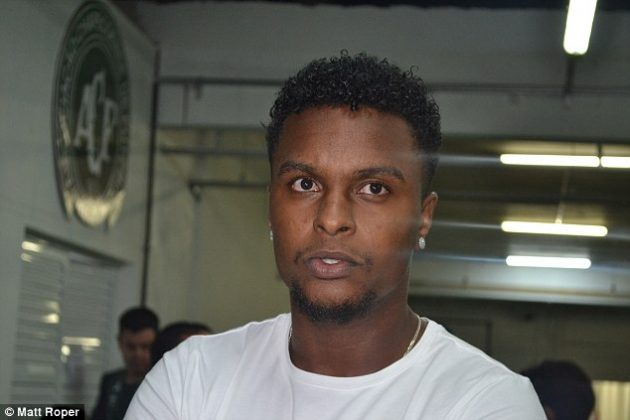 A distraught team-mate of the Brazilian footballers killed in the Colombian plane crash has made the astonishing claim the players were 'assassinated', declaring in an emotional outburst: 'That wasn't an accident'.
Clearly still in a state of shock, Chapecoense player Moises Santos, who did not travel on the doomed jet because of injury, claimed pilot Miguel Quiroga 'was the only guilty one' in the tragedy.
Speaking exclusively to MailOnline, the grieving player – one of just seven who didn't take the doomed plane – wept as he said he would 'certainly have been among the dead' if he had been fit.
He said: '
At the moment I got injured I questioned God, and said to my wife 'why me?' Today I can see that because of my injury, God delivered me.

'But how can I say that God delivered me, when he didn't deliver my friends who were on that plane? If he saved me why didn't he save them as well? I don't have any reason to talk of being delivered.
He then made the astonishing claim:
'My friends were assassinated – that wasn't an accident.'You can't hope for much from human beings. That guy who was taking the Chapecoense players, he destroyed many families, he destroyed the whole city of Chapeco. For Chapeco get back everything that we were living will take a long time. 'Many people in Chapeco were dependent on the players, the families of the players, and now what are they going to do? This is the question that everybody is asking, what is going to happen to the families?
Comments
comments