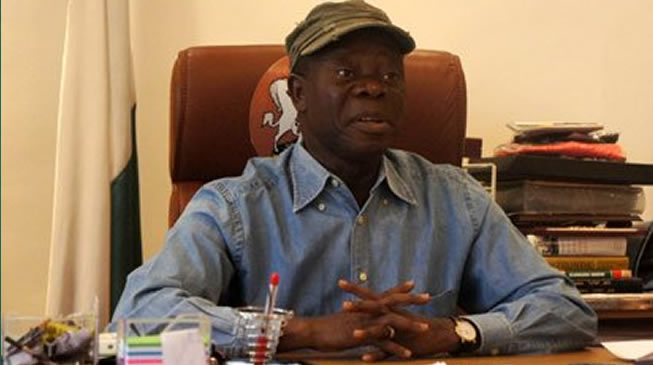 The Edo University, Iyamo, established by Governor Adams Oshiomhole is the most expensive public university in Nigeria.
The school began its first academic session on April 11, 2016. Students who wrote the last Post UTME of the school and were offered admission were astounded when the school fees were released.
To study Accounting and Computer Science in Edo University, a student has to cough out N710,000. This does not include acceptance fee of N50,000, feeding and buying of books.
Other courses in the new institution cost N660,000 minus acceptance fees, feeding and books.
Edo University is not a private institution but belonged to the Edo state government and was established by Oshiomhole with the approval of the Edo state House of Assembly, making it the second state university owned by Edo state after the Ambrose Ali University, Ekpoma.
Oshiomhole's university's fee is about four times higher than what is being paid in Osun state university which used to be one of the most expensive public schools in Nigeria. Osun state university charges between N130,000 and N160,000.
At the University of Ibadan, school fees is N14,000 while at the University of Lagos, it is N15,000, among others.
When former Governor of Lagos, Babatunde Fashola increased the fees of the Lagos state university (LASU) to between N190,000 and N350,000 before it was later reversed, the fees in the new Edo University still doubles it.
Oshiomhole's Edo University is also more expensive than many private schools in Nigeria. Private Universities, such as Crawford University (N400,000-N600,000), Redeemers University (N500,000-N650,000), Lead City University (₦550,500), Caleb University (₦505,000), Ajayi Crowder University (₦500,000), Benson Idahosa (₦500,000), Joseph Ayo Babalola University (₦436,000), Covenant University (₦432,000), Achievers University, Owo (₦420, 000), Novena University (₦400,000), Adeleke University, Ede (350,000), Rhema University (₦325,000), among others are less expensive than Edo University, which happened to be public school.
According to information from the school's website, Edo University Iyamo (EUI), located in Etsako West L.G.A, Edo state, Nigeria, is one of the world's leading teaching and research universities. Since its opening in 2016, EUI has been dedicated to finding solutions to world challenges and to preparing students for leadership in a complex world.
Comments
comments