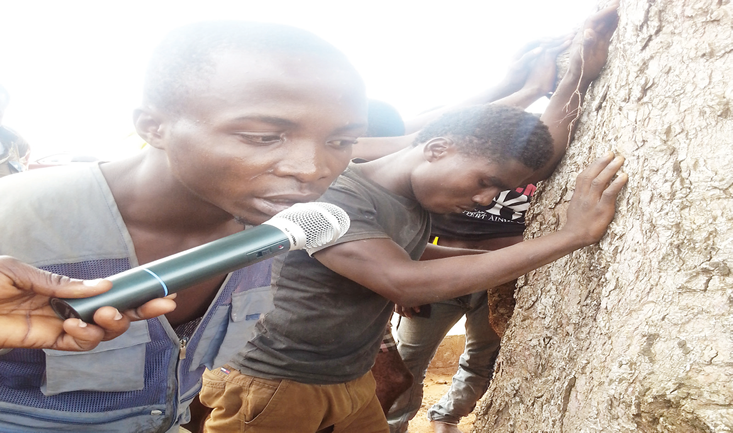 This is really a very pathetic story, it is the highest level of dishonor any man can suffer.
Police in Anambra State yesterday paraded a suspected robber, Chukwudi Chinedu, who raped a ninemonth pregnant woman in the presence of her husband.
Chinedu, was allegedly caught while raping the woman, after robbing her husband of N66,000. The police also paraded a suspected kidnapper based in South Africa, Okwuchukwu Nnaegbo, who hails from Agukwu Nri in Anambra State.
Nnaegbo was arrested last week at the Murtala Muhammed International Airport, Lagos about 10 minutes before he fled to South Africa. The Commissioner of Police, Usman Gwary, who spoke with journalists in his office after the parade of 14 suspects at the State Anti-Robbery Squad (SARS) headquarters, explained that the police were working harder now than ever before to reduce crime which had been on the increase since Governor Willie Obiano assumed office.
The state Police Public Relations Officer (PPRO), CSP Emeka Chukwuemeka, who paraded the suspected criminals, explained that Nnaegbo used to kidnapping in Nigeria, especially in Anambra State and then escape to South Africa to enjoy his loot. The police, according to Chukwuemeka, recovered two low assault rifles, six pump action guns, two locally-made pistols and ammunition from the suspects.
The PPRO also explained that Chinedu was arrested in Okija while raping the pregnant woman in the presence of her husband. He said his arrest led to the apprehension of the other two members of the gang, namely, Onyeka Ozigbo and Harrison Amaukwu both from Uli.
Other suspects include Uba Christian Chukwuemeka from Oji River in Enugu Sstate, who has been kidnapping students of the Nnamdi Azikiwe University, Awka; Chiagolum Ihejigwa, accused of kidnapping and receiving of stolen goods, Chukwuebuka Anyamele, Chukwuemeka Maduabuchi who are suspected kidnappers.
Others include Osita Mba who belongs to a notorious Onyiuke gang of kidnappers who have killed some policemen and other citizens in their violent operations. Others are Cosmas Achum, Augustine Nwafor and Ndubuisi Agbom. – See more at: http://vibenaija.blogspot.com/2014/06/how-armed-robber-rapes-9-month-pregnant.html?utm_medium=facebook&utm_source=twitterfeed#sthash.HolzED2f.dpuf
Now Kamagra is very profitable to buy in Sweden, go to the http://kamagra-se.net and you will find out about discounts on Kamagra in Sweden.
Comments
comments