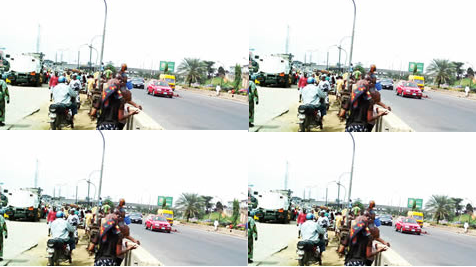 Residents of the Oworonshoki area of Lagos State were treated to a gory sight on Saturday on the Olopo Meji,
Oworonshoki Expressway, as a battered body was left on the highway.The body, which had been crushed many times by vehicles, was later identified as that of a 35-year-old man, Yemi, aka Topia, a resident of the area.

According to Punch,a resident, Michael Oladipupo, said the victim was the son of a landlord on Mabawonku Street.Oladipupo said Yemi was not killed by a hit-and-run vehicle as the situation suggested, but his body was dumped on the highway to serve as an alibi for his killers.
He said…..
"I was called this morning (Saturday) around 9am and told that there was a corpse on the road. I came here and saw his body on the expressway. But as we traced its movement, we discovered that he was dragged to the expressway from a spot close to the Oworonshoki Bridge.After killing him, they dumped him on the road so that the scene would look like an accident. Vehicles and heavy-duty trucks passing by have torn his body into pieces so that people will not be able to identify him."
He said he could not tell whether some parts of his body were taken away for ritual purposes or not.
Our correspondent was taken to the spot where the alleged murder took place.A footware reportedly belonging to the deceased was seen with blood stains on a mat. Some foot prints were also observed on the clearing.

Investigations by Punch revealed that Yemi was murdered by a gang suspected to be members of the Black Axe Confraternity, popularly called Aiye.It was learnt from sources who craved anonymity that the victim, who was a driver, was lured out of his room in the night and bundled into an iron cart, on which he was wheeled to the point of the murder.

A source said,
"It was the Aiye members that killed him. Yemi is not a cultist, but he had friends who were Eiye members.Because there was a fight between the two cult groups, Yemi was mistaken for a member and targeted.They first inflicted machete wounds on him, but when it appeared he was not completely dead, they dragged him to the expressway for oncoming vehicles to finish what they started."
Some relatives of the deceased were seen sobbing near the site of the incident, while others were overheard breaking the sad news to other family members on the telephone.
A relative was overheard by our correspondent in the telephone conversation, saying Yemi had had a misunderstanding with a man who threatened to kill him.
She said,
"They have killed him….He called me few days ago on the telephone that somebody came to his house with his boys and threatened to kill him if he does not pay the money he owed him."
When our correspondent approached her for comment, she said, "He was sleeping in his room when they cunningly drew him out."

The Police Public Relations Officer, Lagos State Command, Ngozi Braide, confirmed the incident, adding that investigation was ongoing.
Comments
comments