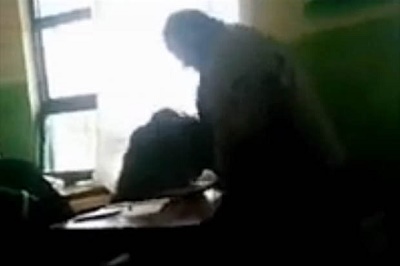 A horny teacher has been caught red-handed after video of him having se,x with a female student in the school toilet went viral online.
An Umlazi High School teacher in South Africa has been suspended pending investigations after a video of him engaged in s*x with a matric student went viral on social media, iMzansi reports.
The randy teacher was secretly filmed by a student as he had s*x with the female student in the school toilet.
The 2 minute long clip shows the teacher sitting on the toilet seat with the grade 12 student on top enjoying.
The incident allegedly occurred in the male toilets. An eye witness said : "These two have been an item for long now with the maths teacher, and she passes every test. Now we know how.'.
Another eye witness said: 'Kodwa he is married, she is happy being side bae. Everyone knows he is promiscuous."
Student teacher relationship is prohibited and if convicted, the teacher might lose his teaching post. The principal of the said school refused to comment saying this was an internal matter.
Comments
comments