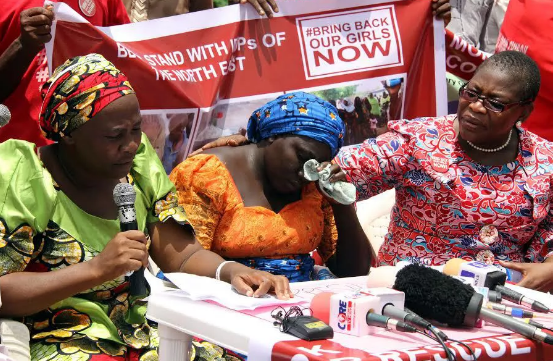 Esther Yakubu, mother to one of the abducted Chibok School girls has said that Nigeria's President Muhammadu Buhari is not fit to called a president.
Esther who was almost in tears at the 900 days commemoration of the abduction of 218 girls kidnapped by Boko Haram terrorists from their hostel, said the attitude of the president towards the rescue of the girls is unfair.
"It is unfair, he did not deserve to be my president (sobbing) because if he be one, people used to risk life of thousands to rescue one life but 218 are still missing and he has the guts, he had that spirit in him to say that he does not want to talk about it," Esther said.
President Buhari had at a United Nations meeting in New York said that he would not want to discuss the issue of the abducted school girls anymore.
"As my sister said, the president said he doesn't want to speak about it, we too we don't want him to say anything but all what we want him to release the fighters so that our girls can come home," Esther continued.
Comments
comments