Twitter user Ladipo has raised alarm after finding a life threatening snake underneath his Gas cylinder, But it seems to me, like the snake is trapped inside, anyway see his post below!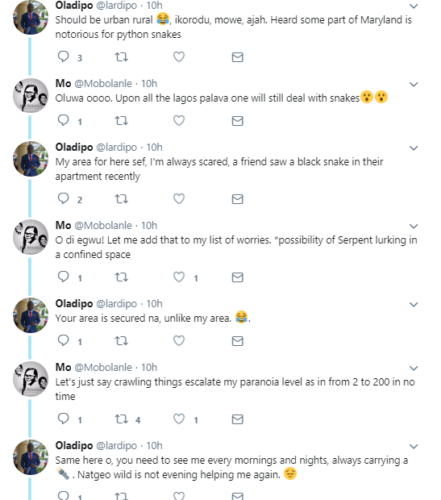 "Please Always Check the Bottom of your Cylinders, This Guys Creeps Underneath It Now"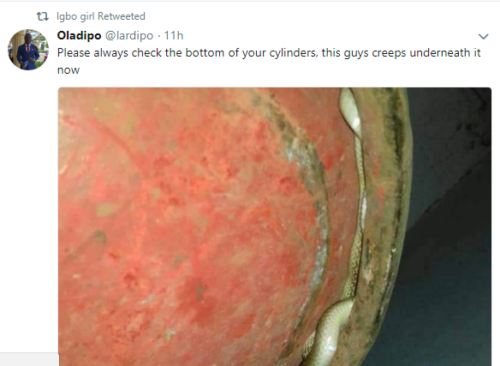 Read Also: How Gas Cylinder Explosion Killed 3 In Zuba
Three persons have been confirmed killed by gas explosion, while two others sustained various levels of injuries in Zuba community of Gwagwalada area council, at the weekend. Our reporter gathered that the deceased were the gas seller, a customer who brought the gas for refill and another person, standingby.
According to an eye witness, Jude Madaki, who said that the explosion occurred when the customer came to refill the gas and as they were trying to refill the gas, they noticed an error in the filling. But the seller tried to figure out the fault, there was an explosion from the gas cylinder, killed both the seller and the customer, including another person at the shop.
Madaki explained further that the wife of the owner of the shop and one of the apprentice escaped death by whiskers, while others around the area sustained various levels of injuries. The eyewitness said the remains of the deceased were put together by the policemen and taken to mortuary, while the injured were rushed to Diamond Crest Hospital for treatment.
The Divisional Police Officer (DPO), Zuba Area command, CSP Dankwano Welson confirmed the incident when our correspondent visited the headqarter of Zuba Area Police Command .Welson revealed that the police have released one of the deceased to his family to be buried according to Islamic rite and they have filled the necessary documents.
The DPO said they evacuated the remaining gas cylinders to the Police station and sealed the shop for security reasons, adding that people might be going there for different reasons.He however advised against selling of gas at the public places, adding that it should be sold in secluded area just as petrol station.
Comments
comments