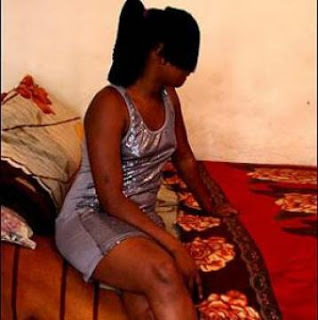 Ritualists in Yenagoa, the Bayelsa State capital allegedly brutally attacked  a female sex worker.
The offenders are supposed to be ritualists as during the assault on the prostitute they plucked her eyes out. It was gathered that besides the victim two more sex workers were offered N30,000 each for their services but only the unnamed woman was tempted by easy money.
The victim who is the resident of Akwa Ibom State was working at Yenagoa red light district called Good Evening Street on Hospital Road in downtown Yenagoa, when three men in SUV appeared and offered to take a ride with them.
The comfort woman accepted the proposal and after awhile the car stopped in an isolated place, supposedly at a bush path, where the malefactors had round of sex with her and committed the ritual act. Immediately after the crime the so called customers threw her out of the car and fled the scene.
The prostitute was saved by the passing motorists who took her to a nearby police station. Later she was rushed to the Federal Medical Centre in Yenagoa for treatment. All the attempts to find out more details of the story failed as the hospital workers were on strike on Wednesday.
According to a hospital consultant, the case has been handed over to the state directorate of social welfare, as none of her relations came since the incident happened last week. CLICK HERE TO SEE REAL PHOTO *VIEWERS DISCRETION IS STRONGLY ADVISED*
The similar incident has happened with a 12-year-old boy who was assaulted by the alleged ritualists in Zaki Local Government Area of Bauchi State, 2 June
Comments
comments