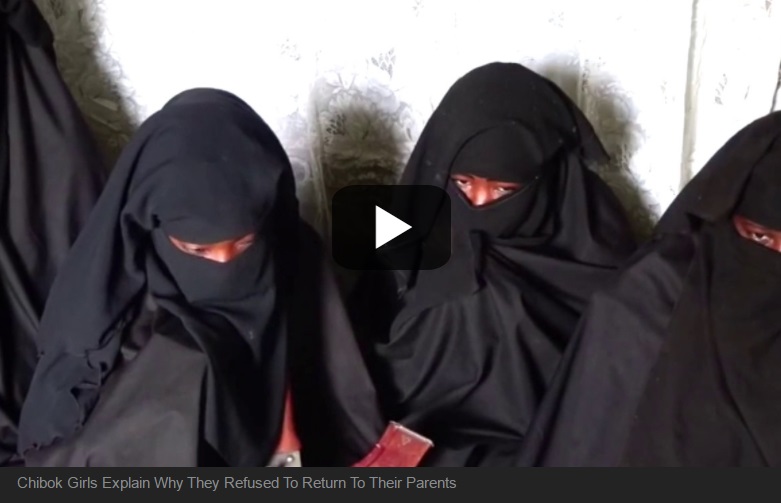 At least four Chibok girls kidnapped by Islamist terror group, Boko Haram in mid-April 2014, today appeared in the insurgent group's propaganda video explaining their decision not to join other abducted girls released last weekend.
The video was offered to SaharaReporters by Nigerian journalist, Ahmad Salkida, who is known to have unfettered access to the militant group.
The abducted schoolgirls, responding to questions posed by a male voice in the background gave their names and exact class level at Chibok Girls High School where they were kidnapped approximately three years ago.
In the video, the girl's detailed reasons they refused to join their colleagues who were recently freed in exchange for several detained commanders of the militant group.
Three commanders of Islamist terrorist group, Boko Haram, recently released last weekend in exchange for 82 Chibok girls have appeared in a new video obtained by a Nigerian journalist, Ahmad Salkida.
In the video, one of the commanders,  Shaibu Moni, threatened to bomb Nigeria's federal capital, Abuja, in due course. Moni is seen in the video stating that the terror group has no plans to engage in dialogue with the Nigerian government. He also disclosed that the terror group forced the Nigerian government to release more than five of its commanders in detention in exchange for the Chibok girls who were freed after more than three years in captivity.
Comments
comments