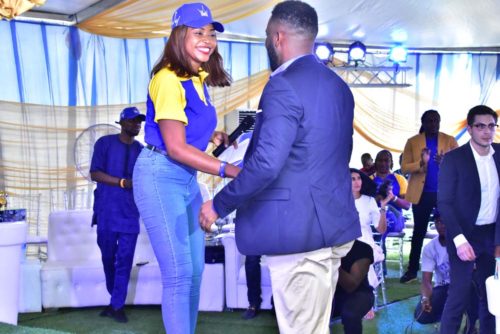 Lagos. July 20, 2018: A middle aged woman has emerged winner of Five Hundred Thousand Naira in the recently concluded World Cup Predictor Jackpot by fastest growing sports betting platform, BetKing. The winner was selected randomly by an electronic draw on July 16, 2018.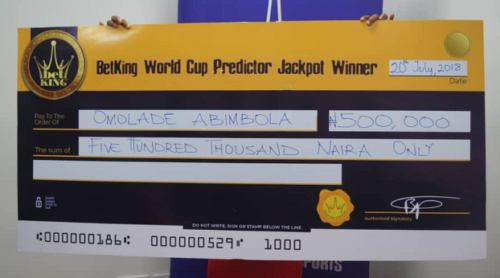 Omolade Abimbola, who was all smiles, expressed admiration and gratitude to BetKing as she received her winning during an official presentation at BetKing office on July 20 in Lagos.
Love and passion for football brought Abimbola into sports betting; and even though her friends found it strange, she had maintained a strong belief that BetKing was where she would win more. The lady narrated the story; revealing she was in church when she received the news about her winning from a BetKing representative.
"At that point, I knew God had answered my prayer." She added gleefully, as she spoke to journalists. Abimbola believes the winning would help her invest in some business ideas, and stated her desire to keep staking on the Playground for Kings.
In her closing words, she advised punters to register on the BetKing platform to join several other winners like her, as the Premier League season draws near.
Also at the presentation was BetKing's Head of Marketing and Customer Experience, Ruby Chuku. She stated that the Playground for Kings empowers everyone, irrespective of gender. "The Playground for Kings is not designed for men only. If you are an adult man or woman who loves sports and is excited about predictions then BetKing is designed for you. We look forward to welcoming other punters out there who want to join the league of winners at BetKing."
BetKing is a sports betting company that launched on February 22, 2018 in Lagos, offering online services Nationwide and agency services in several states within the Nigeria. With headquarters in Lagos state, BetKing is working towards a nationwide expansion that places several physical shops across all states in Nigeria. Among the offerings of the company's services are sports betting, not restricted to football, hockey, cricket, tennis, basketball and more, customized state-of-the-art virtual games including the exclusively designed sports Kings' League.
To join the playground for kings, users can visit www.betking.com to sign up. Users who prefer physical shops can simply walk into any agent shop across Lagos, Anambra, Oyo, Imo, Akwa-Ibom ,Osun and other operating states. You can also follow BetKing on Instagram, Twitter and Facebook with the handle @BetKingNG.
Comments
comments