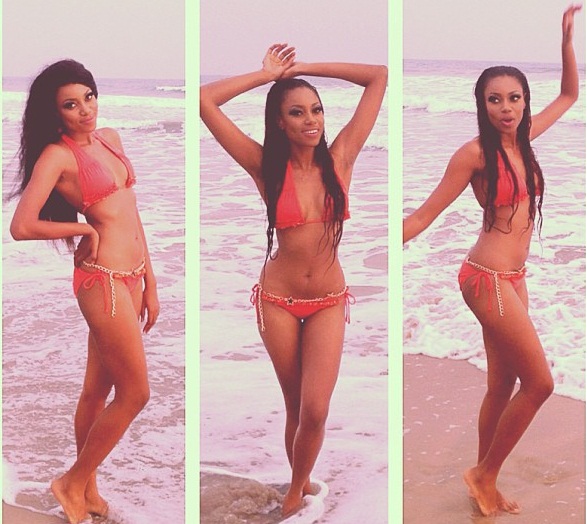 She has constantly defended her skin colour after being accused of bleaching.In a new Punch interview ,she blames her lighter
colour on filter and picture editing. She also talked about her intimidating height and she is always in bikini's….
"I can't blame anyone, ignorance sets in because people don't get to see us one on one so they rely on what we put out for them to see. For example, anytime I post a picture online, I edit it and it tends to make me look lighter. On my Instagram account, there are pictures where I am quite dark; they are for magazine covers and I don't do anything to them, but anytime I am posting a picture, I always use filter on Instagram and they make me look lighter. In my new movie, I look very dark and that is my real complexion. I have come to realise that people love stories like that. I guess I am the cause of the rumours but I would still keep editing my pictures before putting them online."
On her height
A lot of people get intimidated even when I am shooting on set. Some of my colleagues complain a lot about my height. Anytime I wear high heeled shoes, it is like a problem because if I am being paired with people I am taller than and I wear shoes with high heels, it makes them uncomfortable. A lot of people get intimidated, guys get intimidated.
On why she's always in bikini's
I have not heard of anybody who would go to the beach wearing jeans and a jacket. I love going to the beach and anytime I go there, I love wearing a bikini to swim. Recently, my friend had an event and the after party was at a club. In the club, I was telling my friends that I don't know how people do it, coming to club to have fun. To start with, you cannot make a conversation with someone because you are screaming on top of your voice. I was there drinking water, I don't smoke and everybody was looking at me as if I was a boring person. In essence, the night life is not for me becasue it does not make me happy. I don't think you have to go to club to have a nice time. I believe having a nice time depends on the quality of people around you.
Comments
comments